Mar 18, 2020 10:32 AM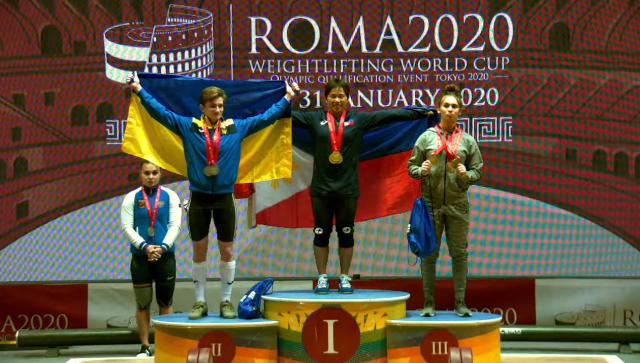 Olympic silver medalist Hidilyn Diaz conquered the Weightlifting World Cup in Rome, Italy after smashing the competition in the women's 55kg category.
Diaz lifted 93kg in the snatch and 119kg in the clean and jerk for a total of 212kg, running away with three gold medals.
Kamila Konotop of Ukraine took two silvers with total lift of 196kg and 90kg lift in the snatch. Kristina Novitskaia of Russia seized the silver in clean and jerk with a 109kg lift.
Meanwhile, Nouha Landoulsi of Tunisia claimed three bronzes with 194kg total lift, 86kg in the snatch, and 108kg in the clean and jerk.
Earlier, Southeast Asian Games silver medalist John Fabuar Ceniza bagged the bronze medal in the men's 61kg category. He lifted 117 in the snatch and 152 in the clean and jerk for a total of 269kg.
Diaz, who is no. 4 in the 2019 Annual Ranking, is aiming to qualify for the Tokyo Olympics in July. Eight lifters will qualify based on world points from the IWF Absolute Ranking which will be released in May.
Fourteen lifters per weight category will qualify for Tokyo. Five slots will be determined from continental points, while one lifter from the host country or tripartite invitation will take the remaining slot. —MGP, GMA News
Source: http://www.gmanetwork.com/
Mar 18, 2020 10:30 AM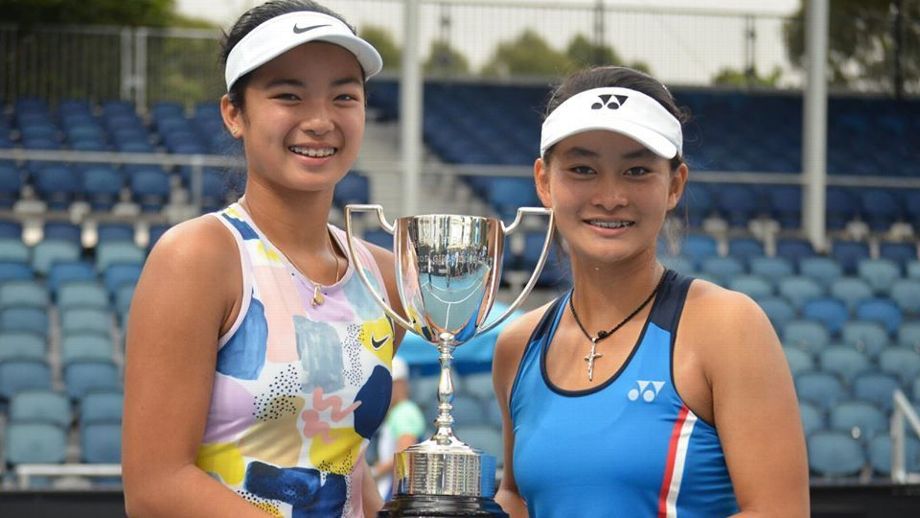 Despite missing out on singles success, the partnership of the Philippines' Alex Eala and Indonesian Priska Madelyn Nugroho claimed the 2020 Australian Open junior girls' doubles title, beating out Slovenia's Ziva Falkner and Great Britain's Matilda Mutavdzic in the Finals, 6-1, 6-2, Friday afternoon Manila time.
Both Eala and Nugroho were ousted in the third round of the first Grand Slam tournament of the decade, but their partnership proved to be very potent in the doubles' circuit.
Victory was swift, as it only took 49 minutes to conclude the match
Eala's win replicates the feat of Francis Casey Alcantara, who became the first Filipino to capture a junior Grand Slam title when he won the Australian Open boys junior's doubles title with Hsieh Cheng-peng of Chinese Taipei in 2009.
The 14-year-old Eala's ITF Junior's World Ranking improved during the tournament, as she moved up to a career-best position of eighth. Meanwhile, Nugroho sits at 27th.
The Southeast Asian duo went off to a very hot start, immediately racing to a 5-0 lead in the first set, even shutting out the very first game.
In the sixth game, Falkner and Mutavdzic finally got on the board, but the firepower of their opponents were eventually too much to handle, taking the first set, 6-1.
The unranked duo managed to take the first game of the second set, but Eala and Nugroho clapped back with three straight to go ahead and never looked back.
The Filipino-Indonesian partnership was simply too much for their counterparts, decimating them in winners, 18-1.
Eala and Nugroho's journey was riddled with challenges. They enteried the tournament as the fourth seed and had to hurdle the top seeds, Linda Fruhvirtova of Czech Republic and Kamilla Bartone of Latvia, in a thrilling semifinal, 1-6, 7-5, 10-8.
Source: http://tv5.espn.com/
Nov 20, 2019 06:52 AM
2016 Olympic silver medalist Hidilyn Diaz bagged two bronze medals in the 2019 International Weightlifting Federation (IWF) World Championships women's 55kg category Friday (Saturday, Manila time) in Pattaya, Thailand.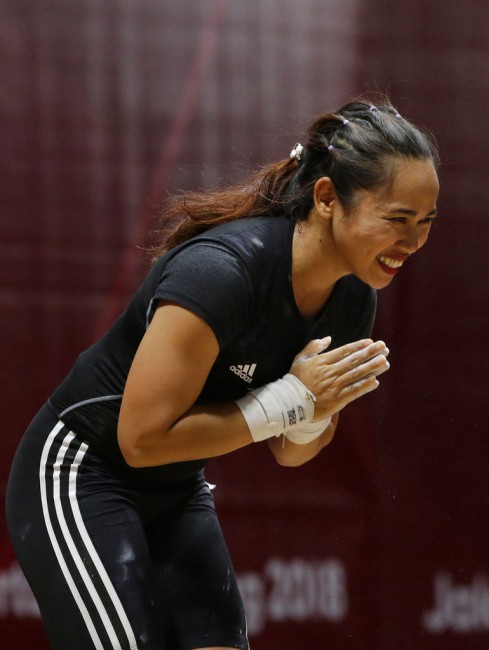 Hidilyn Diaz of Philippines (AP file Photo/Firdia Lisnawati)
Diaz copped two bronzes after lifting 121 kg in clean and jerk discipline and 214 kg in total.
She ranked eighth in the snatch category after lifting 93 kg.
Liao Qiuyun of China bested them overall and brought home the gold medal with a total of 227kg.
Qiuyun powered through first in clean and jerk with 129 kg and second in snatch with 98kg.
Zhang Wanqiong, also from China, won silver overall with a total of 222kg after surging first in snatch with 99 kg and second in clean and jerk with 222 kg.
Source: https://sports.mb.com.ph/
Nov 20, 2019 06:50 AM
Carlos Yulo came through with a performance to remember in the floor exercise and captured the historic first gold medal in the 49th FIG World Artistic Championships in Stuttgart, Germany on Saturday night.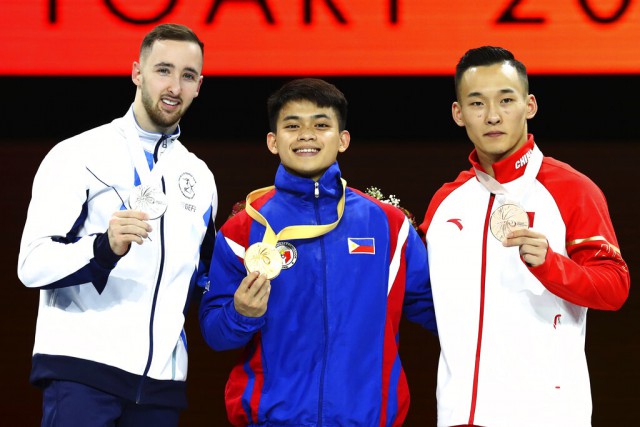 Carlos Edriel Yulo of the Philippines, center and gold medal, Artem Dolgopyat of Israel, left and silver medal, and Xiao Ruoteng of China, right and bronze medal, show their medals during the award ceremony for the men's floor exercise during the apparatus finals at the Gymnastics World Championships in Stuttgart, Germany, Saturday, Oct. 12, 2019. (AP Photo/Matthias Schrader)
Performing second to last among the eight finalists, the 19-year-old Yulo displayed a flawless graceful performance to tally 15.300 ahead of top qualifier Artem Dolgopyat of Israel (15.200) and multiple world champion Xiao Ruoteng of China (14.933).
He scored 8.800 in exercise with a 6.500 degree of difficulty.
Raising the degree of difficulty from 6.2 to 6.5 paid off for Yulo as he became the first Filipino world champion in the discipline.
Last year, he bagged the bronze medal in the same event held in Doha, Qatar.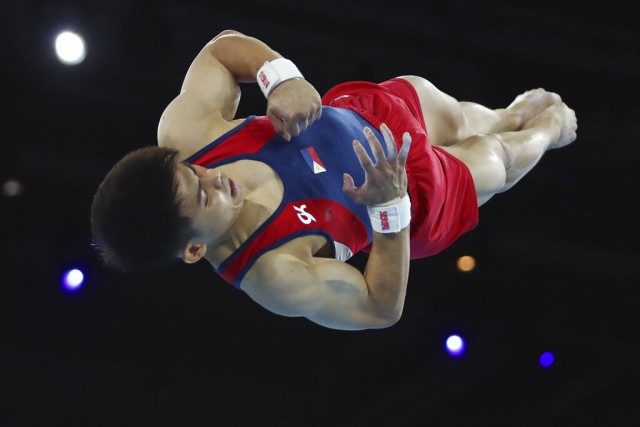 Gold medalist Carlos Edriel Yulo of the Philippines performs in the floor exercise in the men's apparatus finals at the Gymnastics World Championships in Stuttgart, Germany, Saturday, Oct. 12, 2019. (AP Photo/Matthias Schrader)
Source: https://sports.mb.com.ph/
Nov 20, 2019 06:49 AM
Grandmaster Wesley So outclassed reigning world classical titlist Magnus Carlsen 13.5-2.5 to emerge as the inaugural champion of the World Fischer Random Chess Championship in Hovikodden, Norway on Sunday.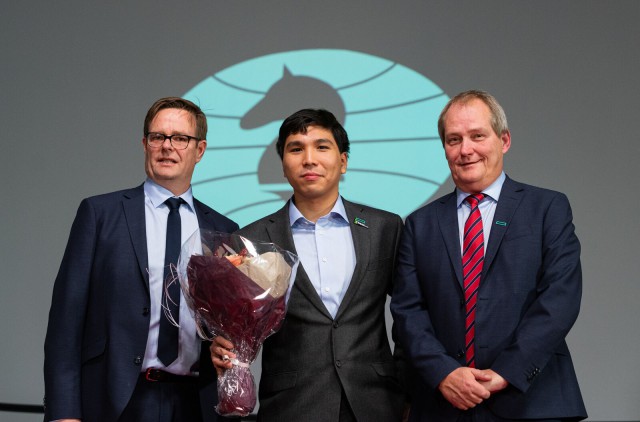 Wesley So, center, during the awarding ceremony. (Photo courtesy of tournament website)
It was a one-sided affair for So, who was born in Cavite but who now represents the United States, as he went unbeaten with four wins and two draws, needing just six of the scheduled 12 games to topple Carlsen.
After drawing the first game and winning the other three of the "slow rapid" games Friday and Saturday, So split the point with Carlsen in 28 moves of the first "fast rapid" game and then overwhelmed the latter in 29 moves in the next match to claim the distinction as the first world champion of the new chess variant.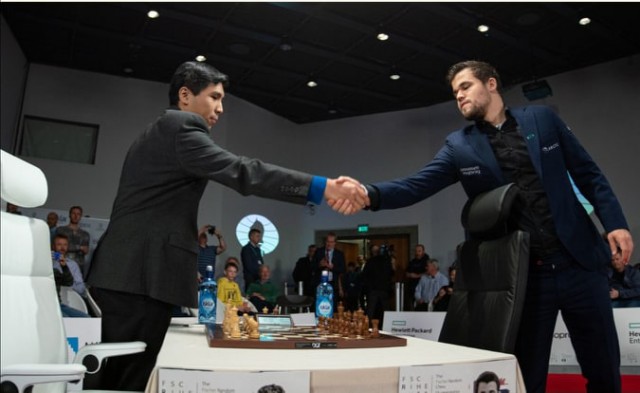 Magnus Carlsen, right, congratulates Wesley So in winning the first World Fischer Random Chess Championship in Hovikodden, Norway on Sunday. (Photo courtesy of tournament website)
So finished off Carlsen with still six games to be played; the next two would have been in fast rapid and the last four in blitz.
The 26-year-old So left the country five years ago for the United States to pursue a dream of becoming world champion.
He eventually achieved that goal but only in a different chess category conceptualized by the late former American world champion Bobby Fischer with the goal of quashing overreliance on chess engines while promoting resourcefulness and creativity.
So is rated No. 8 in the latest FIDE rankings, with Carlsen at No. 1.
Source: https://sports.mb.com.ph/
Aug 08, 2019 09:05 AM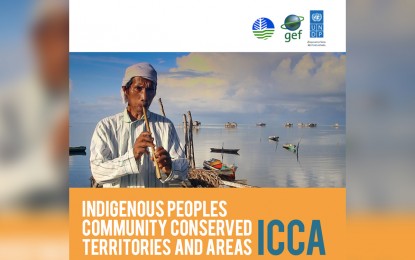 MANILA – The Department of Environment and natural Resources (DENR), as well as other concerned agencies and stakeholders, will look into how to institutionalize the involvement of Philippine indigenous peoples (IPs) in conservation efforts nationwide.
IPs are knowledgeable about territories they occupy and have respective time-tested strategies benefiting the environment so government must involve them in such efforts, noted Sam Pedragosa, team manager of the Indigenous Communities Conserved Territories and Areas (ICCA) project, which the DENR's Biodiversity Management Bureau (BMB) is piloting – with the help of United Nations Development Program and Global Environment Facility — international partnership of 183 countries, institutions, civil society organizations, and the private sector that addresses global environmental issues.
"We'll see how to have inclusive conservation," he said.
He said the project will end next month so it's important to already discuss the matter and way forward including possible initiatives to promote IPs' role as conservation partners in their areas and setting ICCA as a governance method for helping conserve nature.
This week's third National ICCA Conference in Quezon City is one venue for such discussions, he noted.
According to UNDP, ICCAs are "natural and/or modified ecosystems containing significant biodiversity values, ecological services and cultural values, voluntarily conserved by indigenous peoples and local communities — both sedentary and mobile — through customary laws or other effective means."
However, UNDP noted that ICCAs are generally poorly understood and neglected governance methods for conservation aside from being unrecognized in official protected area systems and livelihood and development plans.
Pedragosa said proposed policies drafted during the ICCA project, which started in September 2015, can serve as inputs for institutionalizing IPs' involvement in conservation.
"Hopefully, agencies concerned can follow through and translate these into policy issuances," he said.
Among such agencies are the environment and interior departments as well as National Commission on Indigenous Peoples, he noted.
He said involving IPs in conservation is in line with RA 11038 (Expanded National Integrated Protected Areas System Act of 2018).
"Under such law, areas covered by IPs will be governed and managed by them," he said.
Pedragosa said the Biodiversity Management Bureau and its partners are piloting the ICCA project in Kalinga, Ifugao, Nueva Vizcaya, Aurora, Bataan, Palawan, Bukidnon, North Cotabato, Agusan del Sur, and Surigao del Sur provinces.
"Since the project is about to end, it's important to know what agencies concerned plan for ICCA," he said.
Last year, Rep. Teddy Baguilat filed HB 115 on protecting ICCAs in the country. He said there's need for a law that'll "provide the necessary government mandate, especially the annual budget and people needed to manage the ICCAs."
Incoming Antique province Representative Loren Legarda also filed SB 1185 at the Senate in 2016 which seeks to protect and strengthen indigenous peoples and local communities conserved areas, recognize contribution of these to biodiversity conservation and establish the national ICCA registry. (PNA)
Source: http://www.pna.gov.ph/
Aug 08, 2019 09:04 AM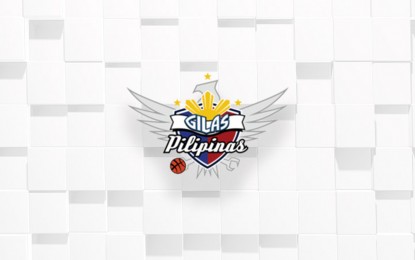 MANILA — Gilas Pilipinas Men impressed early into its training camp in Spain ahead of the FIBA World Cup, beating Congo, 102-80, in a friendly game in Guadalajara, Spain on Wednesday (Philippine Time).
Gilas Men got off to a good start, opening a 13-point lead against Congo, 32-19, at the end of the first quarter.
Although Congo would come to within nine at halftime, Gilas Men unleashed a 31-16 third quarter to pull away for good.
Andray Blatche made 25 points, while Japeth Aguilar added 22 and Mark Barroca came up with 16 for Gilas Men.
Both teams are in Spain for a pocket tournament later in the week that will also see FIBA worlds-bound Ivory Coast and Spain joining.
Gilas Men will play Ivory Coast in another tune-up game before facing Congo anew in the pocket tournament. (PNA)
Source: http://www.pna.gov.ph/
Aug 08, 2019 09:03 AM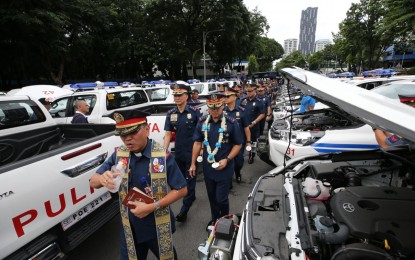 MANILA — To further boost the police's operational capability and visibility, Philippine National Police (PNP) chief, General Oscar Albayalde on Thursday announced the acquisition of PHP784 million worth of vehicles, guns and other equipment as part of its effort to improve operational capability especially in the provinces.
Albayalde, who personally witnessed the blessing of newly-procured police equipment held at the PNP Heritage Park in Camp Crame, said the fund was sourced from the Capability Enhancement Program which is being given on top of the annual budget for the PNP.
"These equipment are expected to enhance the basic operational requirements of PNP units, especially city and municipal police stations, public safety battalions and company, and national support units," Albayalde said.
The PNP has been receiving PHP2 billion a year for its modernization project. But for the last three years, Albayalde said they already received PHP22 billion.
For his part, Lt. Gen. Archie Francisco Gamboa, chairman of the PNP National Headquarters Bids and Awards Committee presented to Albayalde the newly-acquired police equipment amounting to PHP784,688,248 bankrolled by appropriations from the PNP Capability Enhancement Program of 2014 to 2019 and from the General Appropriations Act 2018.
Gamboa said the 95 units of 4×4 utility vehicles will be issued to police provincial headquarters and city police offices to fill up mobility assets. The 10,000 units Canik 9mm pistol will be issued to the newly-recruited PNP personnel.
He added 78 units NEGEV light machine guns, 3,684 enhanced combat helmets and 2,255 units tactical vest will be distributed to police mobile forces along with 568,226 rounds of 9mm ammunition.
According to Gamboa, the procurement is part of the continuing effort of the PNP leadership and the national government to enhance the firepower, mobility, communication, and investigative capabilities of PNP operating units. (PNA)
Source: http://www.pna.gov.ph/
Feb 22, 2019 07:04 AM
JAKARTA – The Philippines pulled off an unexpected four-gold medal harvest in the 18th Asian Games that came to a close on Sunday — but the improved performance was still lacking in almost all departments.
The gold medals in weightlifting, golf and skateboarding placed Team Philippines at No. 19 among 37 of the 45-nation Games that clinched at least one bronze medal.
Filipino athletes also bagged two silver and 15 bronze medals in these games that favored the hosts who got their wish of finishing in the magic five with 31 golds, 15 of them won in the subjective sport of pencak silat, an Indonesian traditional martial art.
And with the campaign over, Philippine Olympic Committee (POC) President Ricky Vargas said there is so much work to do.
"I realized that despite the improved performance, there are so many things that we still need to do," Vargas said on Sunday morning, hours before the closing ceremony of the Asian Games Indonesia has hosted only for the second time since 1962.
"By all indications, the Asian Games was a success for Team Philippines — total medal count improved, gold count quadrupled," Vargas said. "The ranking went up from 22nd to 19th, although short of the goal of 15th, but still acceptable."
Vargas, however, threw caution into the air. The Philippines does not look prime to emerge as overall champion of the 30th Southeast Asian Games that the country is hosting in November next year.
"To be honest? No!" Vargas said a few hours before the last man standing for a possible gold medal, boxer Rogen Ladon, fought — and eventually lost to a head-butting Jasurbek Latipov of Uzbekistan, on Saturday.
"To aim for No. 1 is very difficult, but to aim for the top three is possible — it depends on how we manage the events and the sports," he added.
The Indonesians sweep of the 14 pencak silat gold medals, Vargas said, is a clear indication of the advantage a host country gets.
He also mentioned strong chances for the gold medal in arnis, an indigenous martial art, as well as basketball, taekwondo, boxing, bowling, billiards, among others.
"But if you factor in athletics and swimming, we're in trouble," he said.
Athletics in these Asian Games staked 45 gold medals while swimming had 44 with the Philippines failing to bag a single bronze. These two sports' events are compulsory not only in the Olympics and Asian Games but in the SEA Games as well.
"Look at Indonesia, Thailand, Malaysia, Vietnam and Singapore they're all above us in the medal tally of the Asian Games. And look at their silvers and bronzes, they're golds in the SEA Games."
The Asian Games were an accurate reflection of how the SEA Games overall medal rankings went since 2007, two years after the Philippines claimed the championship on home soil in 2005.
Under Jose Cojuangco Jr. as president of the POC, the Philippines was sixth or seventh place in 2007 Nakhon Ratchasima, 2009 Laos, 2011 Palembang, 2013 Myanmar, 2015 Singapore and 2017 Kuala Lumpur.
There was no difference at all in these Jakarta and Palembang Asian Games.
Indonesia was the topnotcher with 31 gold, 24 silver and 43 bronze medals for a total of 98 medals. Perennial SEA Games champion Thailand was 12th place with an 11-gold, 16-silver and 46-bronze tally, while Malaysia was a close 14th place with 7-13-16. Vietnam placed 17th in with 4-16-18, a 4-4-14.
The Philippines sent 272 athletes that competed in 31 sports in the 16-day Games and got four gold, two silver and 15 bronze medals for a total of 21 medals.
Cambodia was in 24th place with 2-0-1, Laos at 31st with 0-2-3 and Myanmar at 35th with two bronze medals.
The Incheon 2014 campaign where a smaller delegation of 159 athletes who participated in 24 sports yielded a poor one-gold, three-silver, 11-bronze performance for the Philippines.
"It is obvious that grassroots development and talent identification have to be ramped up," Vargas said.
"NSAs (national sports associations) need to clean up their act. We cannot allow bickering and power struggles to weigh down our athletes' efforts. They [NSAs] must foster inclusivity, transparency and accountability," he added.
"Cooperation with the PSC (Philippine Sports Commission) is vital — this is a no brainer. Coaches' development should be given impetus. We need to look at improving in sports where we can be competitive in," he added.
"In the end, it's all about the athlete. Train them well, provide for their needs, keep them motivated, inspired and focused — and shield them from politics. They can and will deliver," Vargas said. (PSC Media Pool)
Source: http://www.pna.gov.ph/
Feb 22, 2019 07:03 AM
THE country's pride Rachelle Ann Go was named Best Actress in a New Production or a Musical by BroadwayWorld UK — a leading theater site for West End and the UK. The news was announced in the award-giving body's official website on Thursday (Manila time).
Go reaped recognition for her role as Eliza Schuyler in "Hamilton." Aside from the Filipino theater idol, her co-stars Gil Terera and Jason Pennycooke also won Best Actor and Best Supporting Actor, respectively. Meanwhile, the critically-acclaimed Broadway musical, Hamilton, was awarded the Best New Production of a Musical award.
Go took to Twitter to thank BroadwayWorld UK and those who voted for her.
"Thank you everyone!!!thank you @BroadwayWorldUK," Go simply wrote.
It was in March 2017 when Go made her Broadway debut, joining the US cast of "Miss Saigon" on 2017. She reprised her character of bar girl Gigi from her West End performance in the Broadway revival. Go appeared in Miss Saigon with the support of Actors' Equity Association. Moreover, Go received good reviews fromVariety magazine, The Hollywood Reporter and The New York Times where she and her co-stars were featured.
The 32-year-old Filipino theater star won Best Featured Actress in a Musical at 2017 Theater Fans' Choice Awards for her role as Gigi which is her first Broadway award.
Meanwhile, Go's performance in Hamilton also received critical acclaim from major publications such as Newsweek, The Guardian and The New York Times,among others. She also performed alongside the cast of the popular musical Hamilton on April 8 during the Olivier Awards at the Royal Albert Hall in London.
Source: https://www.manilatimes.net/
Feb 22, 2019 06:58 AM
MANILA – Catriona Gray became the fourth Filipina to be crowned Miss Universe after she won the prestigious beauty pageant in Bangkok, Thailand on Monday.
Gray redeemed herself from her runner-up finish in the 2016 Miss World by living up to the hype of her being the heavy favorite to win it all, as she prevailed over South Africa's Tamaryn Green and Venezuela's Sthefany Gutierrez.
She takes over the crown from her predecessor Demi-Leigh Nel Peters from South Africa.
Clad in a fiery red evening gown by Filipino designer Mak Tumang, Gray gracefully walked into the pageant's runway as she was named the new Miss Universe.
Gray's answer in the final question-and-answer portion virtually clinched the title for her.
When host Steve Harvey asked the finalists about the most important lesson they have learned in their lives and the ways to apply it should either of them becomes Miss Universe, Gray replied, "I worked a lot in the slums of Tondo, Manila; and the life there is very… it's poor, and it's very sad. And I always taught myself to look for the beauty in it — to look for the beauty of the faces of the children; and to be grateful. And I would bring this aspect as a Miss Universe to see situations with the silver lining. And to assess where I could give something, where I could provide something as a spokesperson. And this I think if I could teach also people to be grateful we could have an amazing world where negativity could not grow and foster, and children would have a smile on their faces."
In the question-and-answer portion prior to that, Gray was asked about her stand on marijuana legalization, and she said that she supports its legalization solely for medicinal purposes.
Joining Gray in the final three of the pageant were Green and Gutierrez, who were crowned first and second-runner ups, respectively.
Gray earlier stunned netizens with her "slow-motion turn" during the preliminary competition of the pageant.
Previous Miss Universe winners from the Philippines were Pia Wurtzbach (2015), Margarita Moran (1973) and Gloria Diaz (1969). (With Benjamin Bondoc/PNA)
Source: http://www.pna.gov.ph/
Aug 01, 2017 06:56 AM
Super-GM Wesley So is now the No. 2-ranked chess player in the world. AP
EUGENE Torre knew instinctively there was something special about this kid competing in a 10-and-under chess tournament upon seeing him solve a complex chess endgame faster than most of us find our way around Manila's horrendous traffic.
"I said it a long time ago, this kid is a rare find," Asia's first grandmaster said.
Wesley So had more or less that same wow effect on veteran journalist Ignacio Dee, who, after seeing So dismantle the opposition one by one in his age group back in 2001, remembered murmuring to himself, "This kid doesn't belong in this tournament."
Over a decade later, So, 23, has not only fulfilled expectations, but he has also reached rarefied air in his sport. He became a full-fledged grandmaster at 14 – the ninth youngest player ever to do so – and in a phenomenal rise over the last few years has sky-rocketed to super-GM status.
So is now the world's No. 2-ranked player and, after winning the Board 3 gold medal in the Chess Olympiad last year and his first US chess championships title just last April, saw his ELO rating soar past 2800 – a level only 12 players have reached in the sport's long, rich history (For comparison, the highest ELO rating Torre ever reached back in 1983 was 2580; Bobby Fischer's was 2785).
There's just one hitch: he now represents the US, not the Philippines, in tournaments.
How the Philippines discovered a chess player described by Star sportswriter Joey Villar as a once-in-a-generation athlete in the mold of Manny Pacquiao and somehow managed to lose him is another head-scratching moment which best captures the sorry state that Philippine sports is in.
Getting to the root of the problem felt like a chess puzzle in itself. To begin with, So isn't easy to read. His life is complicated as it is, and it's always a challenge to read how the mind of a genius works. While chess may be easy for him, figuring out his life away from the chessboard obviously wasn't.
It is no secret in the local chess community that So, like most prodigies, didn't have what you would consider a normal childhood. He soon became estranged with his Filipino-Chinese family – the gap widening after they immigrated to Canada and left the chess whiz alone in Manila.
But as complex as the situation was, So himself was certain he wouldn't have left had it not been for the politics that has permeated every single aspect of Philippine society, sports included.
"I was thinking about it for a while but unconvinced I should do it," So told SPIN.ph when asked what prompted the decision to switch allegiance to the US chess federation in an email interview through Lotis Key, a former actress who now stands as So's adoptive mother in the US.
"But it was almost impossible to get ahead in the Philippines. So I thought I should just use my chess to get an education in the States and maybe find another job," So added.
To be fair, So wasn't entirely deprived of support during his years in the Philippines, receiving backing from the Philippine Sports Commission (PSC), the National Chess Federation of the Philippines (NCFP) headed by Rep. Prospero Pichay, and chess patrons like Reginald Tee, who took So under his wings.
The NCFP, in fact, insisted that So still received a monthly allowance reserved for elite national athletes from the PSC even after moving to the US on the invitation of former women's world champion Susan Polgar to play for Webster University in Missouri.
Yet there was no question about the disenchantment over the system that So bottled up inside for so long until it reached breaking point after one incident where, in his own words, he got caught in the middle of a feud among the 'kings of the sports bodies.'
That happened back in 2013 after So's gold medal from the World Universiade Games in Kazan, Russia had some quarters raising the possibility of a seven-figure incentive from the government. He got none.
In denying So a P1-million bonanza, the PSC explained the Universiade wasn't among the international events where gold medalists are guaranteed monetary incentives from the government under the old RA No. 9644, otherwise known as the Athletes' Incentives Act.
It didn't help that So's cause never received backing from the Philippine Olympic Committee, which, in the first place, refused to sanction the Universiade trip since the delegation was sent by a group whose members had previously clashed with the POC over the long-drawn basketball leadership row.
Amid the power play, So was left holding an empty bag.
"To be poor and unconnected in the Philippines is to be trash for rich people to step on," So said.
"Because of a quarrel between the kings of the sports bodies, not only did the country refuse to acknowledge my efforts, they refused to give me the P1 million promised to athletes who bring home a gold medal."
According to Key, So grew so disillusioned that he almost quit the sport. But the chess whiz somehow found renewed vigor upon his return to the US where he eventually left Webster University and moved to Minnesota to stay with Key's family.
His game took a turn for the better, but the anger hardly waned. By 2014, the NCFP, according to its former executive director GM Jason Gonzales, received an email from world chess body Fide informing them of So's desire to switch federations under rules unique to chess allowing non-citizens to represent countries in tournaments.
Their hope bolstered by assurances from people close to So, Gonzales said NCFP officials were so confident the GM won't make the move that they didn't even bother to respond to the Fide email, or, at the very least, collect the 50,000-euro fee for players switching federations.
Six months later, the break was complete; So was flying the US flag in tournaments overseas.
Disappointing as So's departure may be, Torre, 65, was quick to put a positive spin on the development, saying So wouldn't have reached such heady heights had he not packed his bags to go to the US.
"So what if he's representing the US federation?" said the country's preeminent chess figure. "Sa akin, I look at it positively. Kung di nangyari 'yan, baka di n'ya naabot ang naaabot n'ya ngayon. Nag-improve s'ya because he was exposed to the level of competition there."
More than the exposure to top-level competition and the support from the US federation that So now enjoys, Torre said he was happy to see the chess whiz find 'peace of mind' in the US as well as in Lotis Key, husband Bambi Kabigting, and their daughter the family he has always longed for.
"Wes knows what's best for him. Kung best position nga sa chess, na-master n'ya, sa buhay pa kaya," said Torre. The endgame he wishes for So, he added, is a "happy ending for his biological family and his second family."
Key said: "You need more than talent to rise to a world-class level. You need a stable life, financial support, physical training, experienced coaches, equipment … You can't get these when no one really cares about chess in the Philippines."
As for So's chess, Torre said there was no denying the major leap in his game. Wesley has always been hailed for never, ever making any major blunder during games and his run of 67 games unbeaten this year is proof of that. But what caught Torre's eye was So's newfound ability to turn even the slightest endgame advantages into wins.
"Na-notice ko, konting lamang, nako-convert na n'ya ngayon into wins," said Torre, pointing out that players of So's stature need wins to maintain their ELO rating. "Kung tagilid naman, he's resourceful. In the few times na tumagilid, nakikita ang saving line."
If So maintains his current ranking, Dee said the Bacoor, Cavite-born chess player is in line to get a spot in the candidates matches for the right to challenge Norway's Magnus Carlsen, who has been world champion since 2013.
Torre and Dee said the quest for the world championship would require an unprecedented effort from So's camp, both in terms of logistics – coaches, seconds, E-books – and on the chessboard itself. But the two also agree that So has what it takes to be a world champion.
Dee pointed out that a few years back, Carlsen himself hired So to be one of the 'helpers' in his camp while he prepared for a major tournament.
"He's ripe to be a world champion, pero mahirap ang dadaanan," said Torre.
Key said: "We are Christians. That means our confidence is not in ourselves but in our Lord. The top chess players of the world are enormously gifted. Wesley works hard to compete at this level and if it is His will for Wesley to shine in this arena, then he will.
"If despite the hard work Wesley does not progress, then the Lord will open another door. We don't worry much about it. Advancing in anything is a step by step, sometimes inch by inch proposition. No one does this overnight."
Notwithstanding the US switch, So remains very popular in the land of his birth. Chess forums tracking So's games online enjoy a wide following from Filipinos, Dee said, while a video about him done recently by the History Channel has been viewed over 1.7 million times on Facebook alone.
Like most Filipino chess fans, Torre is not giving up on So, clinging to hope from seeing So wear the traditional barong tagalog during awarding ceremonies, which they see not just as a nod to his roots but as an affirmation that the Philippines remains close to his heart.
"Tampo lang siguro, hindi galit," Torre said.
But for now at least, So, who has yet to acquire US citizenship, or not yet anyway, sounded happy to be in the US – and as far away as possible from the Philippines and what he described as the 'endless cycle of corruption' back home that he has come to abhor.
"I am a true Filipino who cares about the future of Filipino children growing up in an endless cycle of corruption and zero opportunity," he said in an email. "My heart aches for talented people there who because of poverty haven't any hope for their futures."
Is there a chance that he'll come back and represent the Philippines again in the future, he was asked.
"What for? To endorse corruption?" he said. "Anyway, you wouldn't even be writing this article about me if I was still there."
Probably true.
Follow the writer on Twitter: @spinph
Source: www.spin.ph
Jun 06, 2017 09:56 AM
Columbia University sophomore Bianca Gotuaco is the national champion for the individual recurve event, leading a Columbia sweep.
Nineteen-year-old archer Bianca Gotuaco just made headlines for winning gold in individual recurve archery at the 2017 U.S. National Outdoor Collegiate Archery Championships. The sophomore varsity athlete is Columbia University's first national champion in archery, and she happens to be a Filipina. Her team, the Columbia Lions, also won gold in the compound division.
"I am very happy and very proud of our team," Gotuaco tells the Columbia University Athletics publication. "I know we deserve it, but I'm still very shocked. We worked so hard this year—our practices were very productive now that we have a dedicated practice space and we've had better weather so we were able to prepare very well. I think we're all very happy with how we did."
Before she joined Columbia Archery, Gotuaco competed and won in various events in Manila and abroad. She was part of the World Archery Championships Philippine Team, South East Asian Games Philippine Archery Team (11th Rank); 2014 Youth Olympic Games Nanjing (gold for the Olympic Round and silver for the Ranking Round); Junior Division, 130th U.S. National Target Championship Easton JOAD; and 2013 Asian Archery Championships, among many others.
She was introduced to the sport when she was around 8 or 9 years old, she told Town&Country associate editor Pierre Calasanz for a feature article in the magazine in 2013. She had tagged along to watch her aunt Emily Yap, a former national champion, and was hooked on archery ever since. "Back then I think they didn't believe me when I said I was an archer," she muses.
Eventually, it became her passion, and she began training and competing on the national level and heading abroad with her mom, Sheree, as her one-woman cheering squad. "As a parent, it is a difficult balance being a novice parent-coach and just being just a parent. I always swing to and fro, but now I have learned to be more relaxed about it," Sheree says.
Source: www.townandcountry.ph
Feb 17, 2016 03:16 AM
Joining the celebration of the Lunar New Year, President Aquino thanked the Chinese-Filipino community for its vital contributions to the country's resilient economic growth.
The President recognized that Chinese-Filipinos are a "treasured component" of the nation which currently sees an economic resurgence under his watch.
"The strong, resilient and vibrant country that we are today is powered by our multifaceted milieu," the President said in a message on the celebration of the Lunar New Year yesterday, Feb. 8.
In Binondo, Manila, police said more than a million people gathered to celebrate New Year's Eve in one of the oldest Chinatown communities in the world. The center of the celebration was in Ongpin Street where the crowds started to gather in the late afternoon to shop, dine and wait for midnight to welcome the Year of the Fire Monkey with a grand fireworks display.
"Let us rejoice in the stable environment that has allowed us to harness this multiplicity of talents and perspectives towards our resurgence, and continue to foster it as a foundation of a truly progressive and inclusive Philippines for all of our people," Aquino said.
Aquino said he wishes the Chinese-Filipino community "happiness, prosperity and good health" for the coming year.
DYNAMIC HERITAGE
He acknowledged that the dynamic heritage of Chinese-Filipinos adds depth and vibrancy to the country's history. "Your contributions are as far as reaching as they are varied; your unique culture has become part of our collective identity as Filipinos," he added.
NON-WORKING HOLIDAY
In 2011, President Aquino issued a proclamation declaring the Chinese New Year as a special non-working holiday. Aquino said the celebration was a manifestation of the nation's solidarity with Chinese-Filipinos who have been part of its lives.
CELEBRATING SOLIDARITY
Joining the celebration was Manila Mayor Joseph Estrada who hailed the Chinese organizations that helped the city government in organizing the grand celebration that also saw the unity of the various organizations among such groups in the Binondo district.
"For the third straight year, we are using the occasion of the Chinese new year to celebrate our unity and solidarity. It remains a great source of pride and pleasure to remember the very first solidarity dinner that we had in 2014, because it was the first such event jointly celebrated by the local government of Manila, and the entire Filipino Chinese community. That event sealed our unity and set the tone for these past two years of joint initiatives, continuing dialogue, cooperation, and a shared commitment to reclaim and restore Manila's old glory," Estrada said yesterday before the start of the grand parade that begun at Lawton area and ended in Ongpin street in Binondo.
Police estimated the crowd in Binondo yesterday at about 1.5 million, not an exaggerated number, Superintendent Romeo Macapaz, chief of Binondo police emphasized.
CHINESE ORGANIZATIONS
Some of the Binondo merchants and Chinese organizations who participated in the Chinese New year parade include: the Federation of Filipino-Chinese Chamber of Commerce and Industry, Inc., Philippine Chinese Charitable Association, Overseas Chinese Alumni Association of the Philippines, Hong Kong chamber of commerce of the Philippines, Philippine Jinjiang General Association, Inc., Filipino Chinese Shin Lian Association, Filioino Chinese General chamber of commerce, Sun Life Financial, Lucky Chinatown, Noble Place, Carelink health services, Dragon 8, Pacific Center, Meteo Gaisano, Rai Rai Ken and LBC.
ELECTRIC TRICYCLE
The electric tricycle which will soon ply the Chinatown district made its debut at the parade. Estrada rode one of the 30 r-trikes that will be utilized in the Binondo area.
TOURISTS IN CHINATOWN
In Chinatown, two performers entertained the crowds with their songs in front of a supermarket; vendors sold a wide variety of lucky charms, monkey figures, "tikoy" which is a popular food item given as gifts during the season. A giant "tikoy" measuring 36 inches in diameter and weighing more than 300 pounds, was the center of attraction in a food store where a long line had queued just to see it.
At close to midnight, the drums and the gongs sounded, the traditional dragon dance came alive, and colorful fireworks exploded in the sky to welcome the coming of the Year of the Fire Monkey. (With a report from Argyll Geducos)
Source: www.mb.com.ph
Nov 10, 2015 07:40 AM
So's victory means he returns as world number 10, according to computations at Live Chess Ratings
MANILA, Philippines – One year after he quit school and left the Philippines to play for the United States, Wesley So won the strongest tournament of his career by disposing of his nemesis in Bilbao, Spain.
So defeated Anish Giri of the Netherlands in a two-game blitz playoff to capture the Bilbao Masters early Monday, November 2 (Manila time). It was a tough playoff, according to the press statement.
In the first playoff game, it said "even with a noticeable mistake made in the beginning, So has been able to overcome his mistake and win the first mini-match."
In the second playoff game, "when all the clues seemed to lead to Giri´s win with the white pieces, a completely unexpected move on So´s part, gave him the opportunity to end in a tie, resulting this into his victory of the tournament."
The statement referred to a crucial position in the 39th move where So stood to lose his queen but could obtain some play as he would obtain rook and bishop for a queen. White still had the advantage but would have to work to expand his superiority.
The tournament, billed as a youth versus experience event gathered So (22 years old), Giri (21) and Ding Liren of China (23) against Viswanathan Anand, 45, a former world chess champion.
So's victory also means he returned as world number 10, according to computations at Live Chess Ratings. He has an Elo rating of 2774. Giri dove to number 7 with a 2782 Elo rating and Ding Liren, ranked 9th with 2776.
Giri owned So with a 3-0 lifetime score going into this year but So won for the first time at the Gashimov Memorial in Azerbaijian.
But So's rising reputation and world rank of 7th took a big hit at the Sinquefield Cup in St Louis where the top players assembled. So finished last and secured "reverse fame" with two of his losses described as masterpieces of attack by his opponent.
So rebounded in Bilbao by sacrificing his Queen for 3 pieces against Ding Liren and more importantly, he played solidly and did not embark on rash adventures which doomed him at the Sinquefield Cup.
So's next tournament is next month in Qatar, a Swiss System tournament where world champion Magnus Carlsen is playing. – Rappler.com
Source: www.rappler.com
Jun 18, 2015 03:18 AM
Tennis duo Treat Huey and Denise Dy bagged the Philippines' 25th gold medal in the Southeast Asian Games after lording over the mixed doubles tournament on Sunday.
They beat Thailand's Peangtarn Plipuech and Sonchat Ratiwatana in two sets, 7-6, 6-4, to ensure tennis' first gold for the Philippines in the 2015 SEA Games.
Huey and Dy did not drop a set en route to their top finish, sweeping all their matches against Myanmar, Indonesia, and Thailand to qualify for the gold medal round.
The victory is a breakthrough for the Philippines' tennis campaign in Singapore, as the Filipino netters settled for silver medals in the women's team and the men's doubles.
The country also won four bronze medals in the men's team, men's doubles, and men's and women's singles courtesy of Jeson Patrombon and Katharina Lehnert. – RAF, GMA News
Source: www.gmanetwork.com
Nov 14, 2014 03:44 AM
The new law removes the qualification that a senior citizen has to be an indigent before being covered by PhilHealth
ELDERLY CARE. A new new guarantees health care for all senior citizens of the country. File photo by Roy Lagarde
MANILA, Philippines – Under a new law, over 6 million senior citizens in the country can avail of health benefits enjoyed by Philippine Health Insurance Corporation (PhilHealth) members just by presenting their valid identification cards to hospitals, the main author of the measure said on Tuesday, November 11.
President Benigno Aquino III signed Republic Act (RA) 10645 on November 5, amending RA 9994 or the Expanded Senior Citizens' Act of 2010 by removing the qualification that a senior citizen has to be an indigent before being covered by PhilHealth.
About 6.1 million senior citizens, or those 60 years old and above, will benefit from the law, said Senate President Pro Tempore Ralph Recto. (READ: Senate OKs giving insurance to all senior citizens)
"Magpakita lang sila ng ID bilang patunay na sila'y senior citizen at matatanggap na nila mula sa ospital ang karampatang benepisyong laan sa mga miyembro ng PhilHealth," Recto said.
(They only have to show an ID that will prove they are senior citizens, and they can receive from the hospital the corresponding benefits due PhilHealth members.)
In his sponsorship speech on the measure, Recto had said that the ideal situation "is that the minute [senior citizens] blow out the candles on their 60th birthday cake to the moment they breathe their last – they should be PhilHealth members."
To ensure implementation, the necessary funds will be sourced from the National Health Insurance Fund of PhilHealth, which is from proceeds of RA 10351 or the Sin Tax Reform Act of 2012.
PhilHealth is the government's national health insurance program aimed at providing affordable health care to Filipinos,
Recto said that as of December 2013, PhilHealth has 31.27 million registered members and 45.63 million dependents. For 2014, the target of PhilHealth is to provide health insurance coverage to more than 90% of Filipinos.
He said PhilHealth earned P62 billion ($1.38 billion*) from premium contributions in 2013, on top of the government's P12.612-billion ($280.44 million) subsidy.
In the same year, PhilHealth paid P55.559 billion ($1.24 billion) in benefits payment. (READ: Bulk of DOH's DAP fund went to PhilHealth subsidy)
Also on Tuesday, Senator Teofisto Guingona III said the passage of the bill is "an early Christmas gift to the country's elders."
Guingona sponsored the measure as chair of the Senate Committee on Health and Demography.
To date, Guingona said only 3.94 million senior citizens are covered by PhilHealth, either as indigent, sponsored, lifetime member, or dependent. The law guarantees sufficient access to medical and health care to all senior citizens.
"It is high time that we give back to our country's elders. In our culture, the condition and situation of a person in his or her advanced age is the reflection of the character of his or her children. How we take care of our senior citizens is also a mirror of our character as a nation," he added. – Rappler.com
Republic Act No. 10645
Posted on November 5, 2014
Source: www.gov.ph
Nov 14, 2014 02:17 AM

Wesley So exults after receiving from organizer Maurice Ashley a replica of the $100,000 first prize check in the Millionaire Chess Open at Planet Hollywood. PHOTO BY PAUL TRUONG
LAS VEGAS , Nevada — Filipino chess grandmaster Wesley So outplayed Webster University teammate Roby Robson of the United States in the finals to capture the $100,000 first prize in the Millionaire Chess Open championships at Planet Hollywood Resort & Casino.
Despite an inferior position, So forced a draw in the first game as Robson ran into time constraints. With the white pieces in the second game, the 21-year-old So played aggressively to beat his college roommate and win the match 1.5 to .5.
It was the third prestigious victory this year for So, who carried the Philippine flag here despite a falling out with Butch Pichay Jr., the president of the National Chess Federation of the Philippines (NCFP) over the young Filipino's request to transfer to the US chess federation.
In May, So won the prestigious Capablanca Memorial tournament in Havana, Cuba, and in July, he topped the ACP Golden Classic in Bergamo, Italy.
He also finished behind Vassily Ivanchuk of Ukraine at the Edmonton International tournament in Alberta, Canada.
In 32 games so far, he has not lost a single game and here in Las Vegas, he won four and drew two in the seven-round Swiss system in the qualifying round to tie for the lead with Robson, each with six points, and qualify outright in the semifinals.
In the semis, he beat Chinese GM Jianchao Zhou to arrange the finals meeting with Robson, who prevailed over another Chinese grandmaster Yangyi Yu.
With his unbeaten streak, So has jumped to No.10 in the world, with a live rating of 2762, his personal best and the highest a Filipino chess player has ever achieved.
Source: sports.inquirer.net
Aug 08, 2014 06:18 AM

MANILA, Philippines – Young archer Bianca Roxas-Chua Gotuaco continued to build up confidence and momentum heading to the second Youth Olympic Games later this month in China, besting a tough field and ruling the 130th US National Target Championships at Joyce Park in Hamilton, Ohio recently.
Gotuaco, one of the 13 Filipino archers who vied in the largest and premier ranking archery tournament in the US, dominated Taiwan's Tsai Chia-Yun in the finals, 6-2, to annex the gold medal in the Recurve Junior Women event.
The victory augured well for Gotuaco's buildup for the YOG set Aug. 16-28 in Nanjing where she, together with fellow archer Gabby Moreno, nailed outright berths after topping the YOG qualifiers in Taiwan last year.
"I am happy that a lot of hard work and focus helped a lot. I am happy that the Philippine team came and joined the US Nationals as well. It's fun being with them," said Gotuaco, who just turned 17 and topped the 18-20-year-old division.
Gotuaco, a gold medalist in the Palarong Pambansa, Batang Pinoy, Philippine National Games, placed second to California's Anna Miscione (1244) in the Ranking Round with a 1202 after 144 arrows with Tsai finishing fifth with 1176.
She drew a bye in the Round of 64, routed Lee Woorin of California, 6-0, in the Last 32, edged Judy Zhu, also of California, 6-4, in the Round of 16, and barely got past Arizona's Karissa Yamaguchi, 6-5 (9-8) in the quarters.
But she stamped her class over Elizabeth Caughell of Washington, 6-0, before thumping Tsai.
Teammate Andrea Orbeta, who placed No. 11 in the ranking round, dropped a 5-6 decision to Valerie Gerig of New York in the Round of 16.
"We are happy for Bianca because the US Nationals is the largest and most important archery tournament in the US. It is a mandatory event for all US archers who want to be ranked. There are 900 archers who took part in the event from various ages and divisions, including archers from Mexico, Colombia, Taipei and the Philippines," said Bianca's mom Sheree Gotuaco.
The younger Gotuaco, meanwhile, vies next in the Seoul Fiesta Invitational Tournament, along with the other Filipino junior archers, before joining the national team in the YOG.
Source: m.philstar.com
Apr 24, 2014 06:51 AM
PALO, Leyte – Energy Secretary Carlos Jericho L. Petilla lauded the fruitful partnership between the province of Leyte and Federation of Filipino-Chinese Chambers of Commerce and Industry, Inc. (FFCCCII) that resulted to the establishment of a Filipino-Chinese Friendship Village in Barayong village here.
The project that will be constructed in a five-hectare lot identified by the local government will soon see the rise of 500 houses and five units of school buildings with two-classrooms each to cater to typhoon-displaced families.
It is located some three kilometers away from the center of commerce.
"It is definitely a village, within a village," Energy Petilla said in his speech.
Petilla enthused that the province of Leyte is very lucky with its partnership with the federation.
"Leyte received more than its share of classrooms under the Schools for the Barrio from the organization that any other provinces in the country," said Petilla, former Leyte governor.
The groundbreaking of the project was held Friday morning led by no less than FFCCCI president, Dr. Alfonso G. Siy.
Siy said that if Dr. Lucio Tan, chairman emeritus of the FFCCCII, will like the outcome of the friendship village, he might add more units of houses.
"Dr. Tan is few of the most generous people in the Philippines," president Siy said.
"Right now we are constructing 300 houses for the people affected by typhoon Sendong in Compostela Valley, Cagayan. After that, we will proceed with the construction of the houses here," Siy added.
The construction of the houses will cost P40 to P45 million while the school buildings with 10 classrooms will be at P2 million.
FFCCCII secretary general Fernando Gan said that the materials are pre-fabricated and there will be five-houses in a row. Each unit will have an area of 21-square meters and one common comfort room and shower room outside.
The funding for the project came from the different affiliated organizations led by the FFCCCII Foundation Inc., Federation of Filipino-Chinese Associations of the Philippines, World News Daily, Filipino-Chinese Amity Club, Overseas Chinese Alumni Association of the Philippines, Filipino-Chinese Shin Lian Association, and the Philippine Chinese Chamber of Commerce and Industry Inc.
Go Tic Ching, president of the Tacloban Filipino-Chinese Chamber of Commerce, Inc. (TFCCCI) and other officers graced the affair. Twenty-five officers from FFCCCII graced the event.(PNA)
Source: www.businessweekmindanao.com
Apr 23, 2014 08:52 AM
Escalante City Mayor Melecio " Beboy" Yap lauded and thanked the people behind the Federation of Filipino Chinese Chamber of Commerce & Industry Inc. (FFCCCII) for bringing their advocacy of serving the poor to the city Friday.

ESCALANTE CITY Mayor Melecio "Beboy" Yap (3rd from left) welcomes Yip Ying-Wun (John Yap), Board Member of FFCCCII and President of NOFCACl and of SNFCCCII. Also Directors Roger Yap, Philip Yap and Carlos Ganihong, Chief of AVF at FFCCCI Foundation Inc. during the Feb. 21 medical mission of FFCCCII in the city.* (Jun de los Reyes/NDB photo)
"FFCCCII is truly an organization that looks forward to the situation of poor families. They shared their love and blessings through this free medical consultations with free medicines. This is a big help to the people of Escalante considering that we have limited resources. Dako gid namo nga pasalamatan sa ila sa FFCCCII Foundation Inc., in partnership with SNFCCCII, NNFCCCII, NOFCACI and AVFB," Mayor Yap said
"We are very thankful for this medical mission. It helps a lot of our people in Escalante. Hundreds of people are in dire need of help especially the indigents and less privileged patients. Having availed of this Libreng Pagamutan by FFCCCII is a privilege," said Escalante Vice Mayor Atty. Santiago Maravillas.
More than 600 individuals availed of the Libreng Pagaumutan of the FFCCII Foundation Inc., in partnership with the SNFCCCII, NNFCCCII, NOFCACI, AVFB spearheaded by Yip Ying- Wun (John Yap) – Board Member, FFCCCII, at the same time President of SNFFCCCII and NOFCACI together with Directors Philip Yap, Roger Yap and Carlos Ganihong the Chief of AVGB with the full support and cooperation of the City Government of Escalante headed by Mayor Yap, Vice Mayor Maravillas, SPM's and barangay officials,
Dr. Lolita Legaspi, City Health Officer, Dr. Rofelia Doloso, Asst. CHO, Dr. Dante Pabuaya, Dr. Felix C. Doloso (Vicente F. Gustilo District Hospital), Dr. Jaboni Judith at Cora and Dr. Jabbel Y. Jayawon of the Municipal Health of Toboso , Atty. June Vaflor – City Tourism Officer and staff and personnel, CHO and CSWDO head – Vermont Jubahib Staff and personnel with the Amity Volunteer Fire Brigade Nurses and personnel, Ma. Arnel Nunez, Eveylyn Villaflor, Mercy Grace Posadas, Queency Marie Magno, Chino Mar Villaruz, Cheza Steve Tayson, Julie Yip, Marla Tamariz, Michelle Ann Navales, Chasonne Matulac, Vincent Van Urbino and Alan Sagmon and 11 nurses , 21 Midwife of Escalante City help and facilitated the Medical Mission.* (Jun de los Reyes)
Source: www.ndb-online.com
Nov 04, 2013 06:20 AM
Taipei – Thursday, October 31, 2013
Today, teams won the first medals of the 2013 Asian Championships at Taipei Stadium, while three new nations qualified for the 2014 Youth Olympic Games.
This morning's session at the Asian Championships saw men's and women's recurve and compound teams go through the elimination stages – before the finalists battled for medals in light rain this afternoon.
Between the two team sessions, recurve cadets won Asian athlete places at Nanjing, in the finals of the Youth Olympic Games Continental Quota Tournament.
Continental Qualification Tournament – Boys
The Philippines and Indonesia claimed the two available quota spots in the boys competition thanks to Luis Gabriel MORENO and Panjiaji Bukhori RAHMAT, respectively. In their semi-finals, MORENO overcame Prennoy MURONG (BAN), while RAHMAT beat Ansar AGUDIYEV (KAZ). MORENO then took a satisfying straight-set victory in the final, while AGUDIYEV gave Kazakhstan some consolation by claiming bronze.
Continental Qualification Tournament – Girls
Bianca GOTUACO (main photo) then won the Philippines the right to send a pair to Nanjing, after she made the gold medal final in the girls' event. She beat Oyuntungalag CHIMEDTSEREN (MGL) 6-2 in the semi-finals, even after the Mongolian archer took an early lead. Khazakhstan got the second Youth Olympics space available, courtesy of Aruzhan ABRAZAK for the full joy of the Kazakh delegation. She needed a shoot-off to beat Nur Naseha RUSLI (MAS) in their semi-final match, and then won another one-arrow shoot-off in the final to take gold over GOTUACO. RUSLI lost the bronze medal match to CHIMEDTSREREN.
Compound Women Team
With only seven teams in the category, competition started at the quarter-final stage. Iranians Mino ABEDI, Shabnam SARLAK and Riona Siska SARI posted the highest score of the day; their 230 points in semi-finals against Korea took them to the final. They faced host-country Chinese Taipei for gold: WEN Ning-Meng, CHEN Li Ju and HUANG I-Jou (photo) beat Iran for the Asian Team Champion title on home soil, 224-217. CHOI Bomin, SEOK Ji Hyun and YOUN So Jung contested the bronze medal with India. Lily Chanu PAONAM, Jyothi Surekha VENNAM and Trisha DEB gave India an initial lead, but eventually fell behind: losing 222-217.
Compound Men Team
Living up to expectations set over the season, the top-qualified countries made it through to the compound men's team semis: India versus Chinese Taipei, and Korea versus Iran. India and Korea both stormed to clear victories – setting up a rematch of the women's compound team bronze final, and a chance for Indian revenge! They made good on the threat: Abhishek VERMA, Ratan Singh KHURAIJAM and Sandeep JUMAR won gold over Korea's MIN Lihong, CHOI Young Hee and KIM Jongho in a tight, high-scoring battle: 233-231. Iran took revenge for the women's event, too. This time contesting bronze, rather than gold, the men's trio of Amir KAZEMPOOR, Hamzeh NEKOEEI and Esmaeil EBADI outscored Chinese Taipei's KUNG Lin-Hsiang, CHEN Po-Kai and WANG Chih-Hao.
Recurve Women Team
The performance of the day came in the shape of Indonesia's recurve women eliminating Deepika KUMARI's India in the quarter-finals. Ika Yuliana ROCHMAWATI, Diananda CHOIRUNISA and Titik Kusuma WARDANI later had a chance at bronze, despite losing their semi-final to Chinese Taipei by a point. It was not to be, though: Japan's Ayano KATO, Kaori KAWANAKA and Yuki HAYASHI took the podium spot instead, recovering from a semi-final loss in the day's first Japan-Korea derby. In the gold-medal match, Korea's CHOI Misun, JOO Hyun Jung and JUNG Dasomi had no mercy for home-country team TAN Ya-Ting, LE Chien-Ying and LIN Shin-Chia: Chinese Taipei settled for silver.
Recurve Men Team
Korea lined up against Malaysia in one recurve men's team semi-final, while a head-to-head against Japan was Chinese Taipei's reward for making all four of today's semi-finals.
Korea's KU Bonchan, JIN Jae Wang and JUNG Sung (photo) were just too strong for Malaysia: taking a 221-210 and spot in the final. World Cup Finalist Khairul Anuar MOHAMAD, and teammates Atiq Bazil BAKRI and Haziq KAMARUDDIN, shot for bronze against Chinese Taipei – who lost to Japan in their semi-final. No team medal for Malaysia in this championships: hosts KUO Cheng-Wei, CHANG Wei-Hsiang and CHU Shu-Yu took the match. Japan won't be taking home a team title, either: Takaharu FURUKAWA, Shungo TABATA and Shohei could not raise their game enough in the final. They lost, 220-224, to Korea – who claimed the men's-women's recurve team double.
Stay tuned tomorrow, for eliminations and finals in the individual and mixed team compound competitions.
World Archery Communication
Source: www.worldarchery.org
Sep 30, 2013 10:01 AM
23 year old Megan Young was earlier this evening crowned Miss World 2013!
At the Bali Nusa Dua Convention Centre in front of a sell out audience, Megan Young representing the Philippines recieved the Miss World Crown from Wenxia Yu, marking a new era of Miss World! With a huge array of music dancing, bright lights and of course 127 amazing contestants, Miss World 2013 came to a dramatic conclusion as the cast was cut to 20, then 10, before a final 6 were left on stage to answer the judges questions.
Philippines, Brazil, Spain, Ghana, and France were the judges selection from the Top 10, before they were joined by the wildcard People's Choice Gibraltar, who received the most votes on the Miss World 2013 App.
They were given the chance to tell the judges why they should be Miss World 2013, before we were treated to a musical trio of Miss World 2012 Wenxia Yu, Indonesia's Vania Larissa and Australia's Erin Holland who complimented each othwer perfectly in an operatic collaboration.
Then the fianl three were announced, with Megan Young winning the crown, France's Marine Lorphelin as the First Runner up, Ghana's Naa Okailey Shooter second runner up.
The confetti exploded onto the stage as all contestants linked arms and ended with a beautiful rendition of the Miss World song 'Light the Flame'.
A more comprehensive write up to follow soon with ALL the photos of the night. As we speak, the Coronation Ball is in full swing and the Continental Queens of Beauty will receive their awards!
Source: www.missworld.com
Sep 03, 2013 02:37 AM
By Emmanuel B. Villaruel (The Freeman) | Updated July 17, 2013 – 12:00am
CEBU, Philippines – US-based Filipino chess Grandmaster Wesley So carved his name in history books after producing the Philippines' first ever gold medal in the 27th Summer Universiade last Monday at the Kazan Equestrian Complex in Kazan, Russia.
Since it started joining in what is considered as the Olympics of the best university athletes all over the world in 2003, the country's previous best finish was only a silver medal courtesy of taekwondo jin Samuel Thomas Harper Morrison in Shenzhen, China two years ago.
So, who became the eighth youngest chess grandmaster in history after achieving his GM title at the age of 14 in 2008, completed the 9-round Swiss system competition with 6.5 points in the company of eight others but fought on with savvy to snare the gold medal via super tiebreak.
So, now 19 years old, was tied with Zaven Andriasian of Armenia and GM Li Chao of China in the first triple tiebreak but emerged with a higher Buccholz and performance score.
In the final tie-breaker, So played in black pieces, but went on to beat Andriasian soundly to claim the coveted crown.
So's golden showing put the country at 40th in the medal standings alongside the United Kingdom, Austria, Belgium, Botswana, and US Virgin Islands with one gold apiece, among others. Host Russia lorded it over 126 gold medals. China and Japan were a distant second and third with 23 and 20 golds, respectively.
In a report by Winchell Campos posted on philboxing.com, So was actually tied with five others prior to the last round. With a little stroke of luck, all the other games in the top three boards finished in similar hard-fought draws as his Sicilian game with Andrasian in the ninth round.
Overall, So finished with four wins and five draws. It was indeed a monumental feat for the Phl's No.1 player and world No.40 as the event drew a total of 24 GMs and a bunch of the world's top caliber pawnpushers.
So sets his sights next on the prestigious World Cup scheduled three weeks from now. His fellow countrymen GM Mark Paragua and Oliver Barbosa will also be seeing action in the tough competition. (FREEMAN)
Source: www.philstar.com