MANILA – The Binondo-Intramuros Bridge connecting the two busy Manila districts will be inaugurated on Tuesday.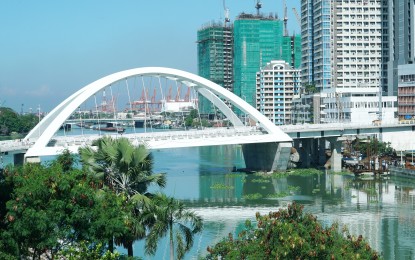 Department of Public Works and Highways (DPWH) Secretary Roger Mercado and Undersecretary Emil Sadain conducted a final inspection on Monday at the state-of-the-art project, one of two China-grant bridges implemented and completed by the DPWH Unified Project Management Office (UPMO), according to a news release.
Also present during the inspection were UPMO Directors Benjamin Bautista, Ramon Arriola III, Sharif Madsmo Hasim, Rodrigo Delos Reyes, and Johnson Domingo.
The steel arch bridge has a total length of 680 meters and four lanes and is 70-meter long and 21-meter wide.
It links Intramuros at Solana Street and Riverside Drive and Binondo at Rentas Street, Plaza del Conde Street and Muelle dela Industria, with a viaduct structure over Estero de Binondo.
The bridge is expected to cater to over 30,000 motorists daily and will improve traffic conditions in Metro Manila.
Bicycle lanes with reflective thermoplastic road lines and protected sidewalks on both sides are also features of the project.
As part of the overall Metro Manila Logistics Network, 12 bridges are being eyed over Pasig River, Marikina River, and the Manggahan Floodway — three completed, five under procurement, three under financing negotiation with China, and one under private initiative. (PR)
Source: pna.gov.ph