"Economic Prosperity to whole nation and alleviate poverty"
"To devote time, talent and resources to projects that will contribute to the country's economic, social cultural development."
• To cooperate with the Philippine Government in the implementation of its national policies;
• To foster and encourage the development and growth of trade industries in the Philippines;
• To promote the integration of local Chinese community into the mainstream of Philippines body politic
• To correct trade abuses;
• To create and maintain higher standards in business dealings trade organizations in the Philippines, irrespective of nationality or religion;
• To compile, translate and study laws affecting its members and guide them properly in the observance of such laws;
• To cultivate, promote and enhance friendly relations between Filipinos and Chinese in general and between Filipino and Chinese merchants in particular; and
• To conduct and maintain educational, charitable and social welfare projects.
Federation of Filipino-Chinese Chambers of Commerce and Industry, Inc.
"By devoting your resources to the improvement of our society, the Federation has consistently played a vital role in ushering a period of greater cooperation and understanding not only in the promotion of business and trade, but also in facing various challenges that we face as a nation."
– President Rodrigo Roa Duterte (32nd Biennial Convention of FFCCCII, 21 March 2019, SMX Convention Center Pasay City)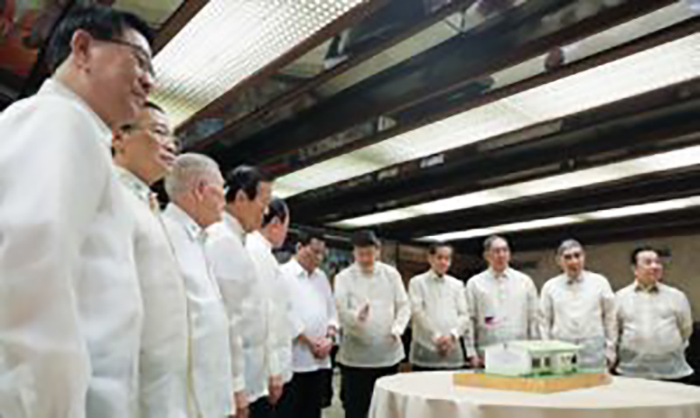 Presentation of Barrio School to President Rodrigo Roa Duterte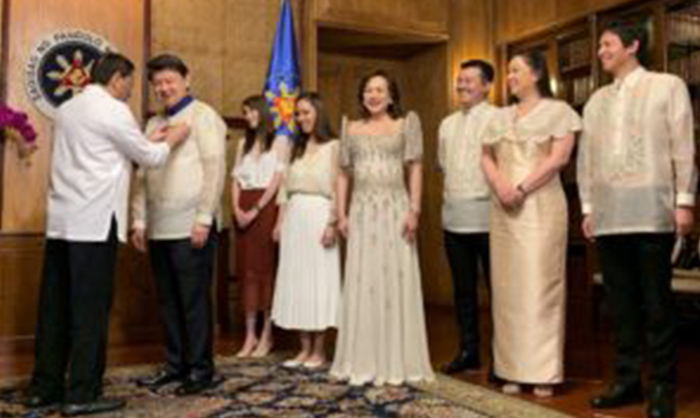 Presentation of Barrio School to President Rodrigo Roa Duterte
Since 1954, the Federation of Filipino-Chinese Chambers of Commerce and Industry, Inc. (FFCCCII) has been a strong partner of government in nation-building and development. It has channeled its efforts to unite the Chinese-Filipino community, promote the growth of business, and implement social welfare projects to bring forth progress for the whole country. The Federation's more than 170 member organizations across the Philippines play vital roles in their respective sectors and communities. Its membership is actively engaged in trading, manufacturing, service industry, and other economic activities that help fuel the country's engine of progress.
FFCCCII is a non-stock, non-profit corporation. As the largest organization of Filipino-Chinese businesses, the Federation brings together under one roof chambers of commerce and trade associations from National Capital Region, Northeastern Luzon, Northwestern Luzon, Central Luzon, Southern Luzon, Bicol, Eastern Visayas, Cebu-Bohol, Occidental & Oriental Negros, Panay, Northern Mindanao, Southern Mindanao, and Southwestern Mindanao.
Sixteen Committees take charge of specific areas of concern, namely: External Affairs Committee, Trade and Industry Committee, Industrial Relations Committee, Tax and Business Advocacy Committee, Belt and Road Committee, Ways and Means Committee, Welfare Committee, Mediation Committee, Agriculture and Natural Resources Committee, Organization Committee, Education and Culture Committee, Social Responsibility Committee, Youth and Integration Committee, Media and Public Information Committee, Property Management Committee, and Science and Information Technology Committee.
Over the years, FFCCCII has undertaken a broad range of activities in keeping with its deep commitment to serve the Filipino nation.